Customize Wholesale Flat Cosmetic Bag Package
August 06,2021
Cosmetic spout pouch is a kind of versatile stand up pouches. Used predominantly by cosmetics industries, stand up bags are gradually making their way into other spheres as the preferred packaging solution.
For example, people can squeeze lotions into cosmetic spout pouches when they are prepare for a travel. These pouches can be well sealed and folded at will. As the sub packaging of daily chemical products during travel, cosmetic spout pouches are the best choice.
Popularity of cosmetic spout pouch
The key reason for the popularity of stand up pouches being best packaging for cosmetic bags is their versatility. Any liquid form cosmetics can be put into the pouch.
Now there are manufacturers and eco-friendly packaging enthusiasts in this industry are revolutionising the ways in which customers think about the simple customized stand up plastic drinking water bags and liquid bag and coming up with new ideas to package various items in these stand up plastic pouches.
This trend is a chance for brands like us, which is aim at making versatile cosmetic spout pouch in a green way.
Advantages of flat cosmetic bag package
Flat cosmetic bag package offer great advantages in terms of cost savings, including production, distribution and storage costs.
What's more, from a marketing perspective they also provide a bigger and eye-catching surface for printing in contrast to traditional brand labels on containers. For example, an african cotton kaftan Plus Size African Dresses Factory which uses flat bag packages actually has the front and back pages to advertise their main products, African Abaya Muslim Hijab Dress, flower print cotton kaftan and traditional kitenge kaftan.
Best packaging for cosmetic bags
🔎see more finished products in our website: hqspoutpouch.cn
Ideas behind flat cosmetic bag package
Our company, Hongqiao Packaging, is established in early 1990s. We have specialized in
cosmetic spout pouch fo years. With the hope of supplying flat cosmetic bag package marked with terms such as "useful", "environmentally friendly" and "non-polluting", our team has spent much time and money in updating the cosmetic bag packagin technology and machines. Spout pouch is not a uncommon item in our life.
In fact, it can is used to package various liquids of different market categories. It be seen as an alternative to liquid packaging, and we want to make such common and small things to perfect.
You may feel confuse that why should aim so big. Teams from Hongqiao Packaging don't thinks. We bellieve great value is in every product, no matter how small it is, for example, the Liquid flat bottom pouch With Spout.
What we have learned from Oilly flat cosmetic bag?
We have see this belief from another brand, Oilily. It is a famous company which specializes in Oilly flat cosmetic bag and fashion clothes. Oilily, as the its team said, always stands for beauty, those moments that make life more wonderful and fun, with beauty and enjoyment as the main pillars.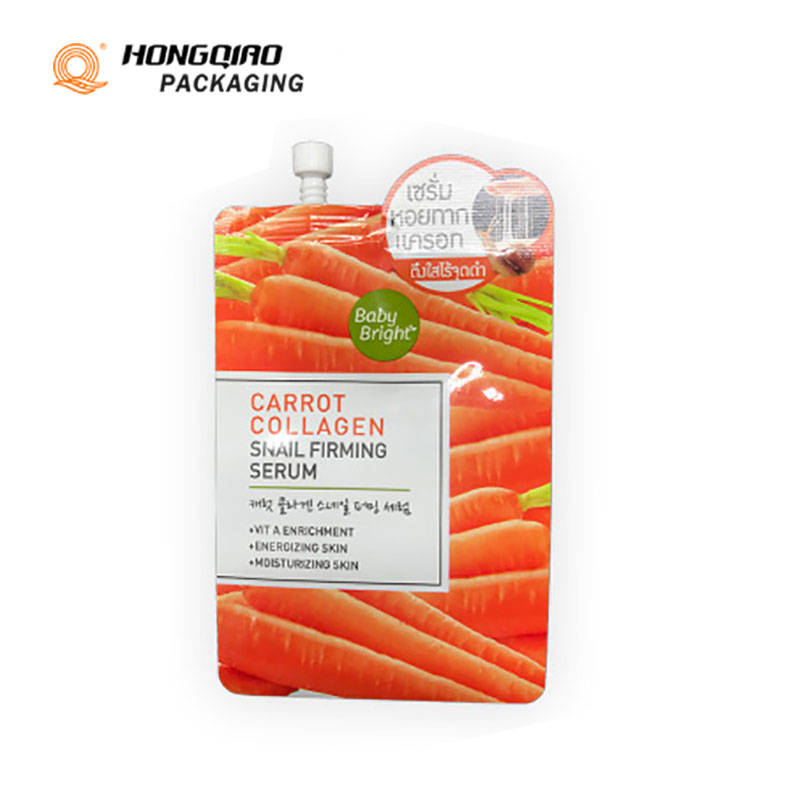 Thus, with the belief in their understanding of beauty, Oilily can design and make these beautiful Oilly flat cosmetic bags. Oilly flat cosmetic bag is famous for the happy floray patterns and high-quality materials. And we feel so lucky to have opportunity to have known such kind of belief and then rooted similar belief in our ideas and products.
We always provide transparent and friendly service.
▶️
Responsibility for our customers can turn into a positive cycle.
Our customers demand the best of us so we've built our business around first class customer service with a commitment to offering high quality competitive pricing and a fast delivery service.
▶️Customization of packaging bag cosmetic
According to your needs, whether you want a custom size, print or accessories, we can make the customized Stand Up Plastic Drinking Water Bag. We can manufacture spout pouches vents, spouts or particular types of seals.